Technology has really changed the way kids now look at toys. More of today's toys are now build in order to help kids develop interaction. New toys are out there that you can even care like a personal pet. One example is this unique toy from Spin Master called the Owleez Flying Owl.
The Owleez Flying Owl is a unique toy that many now call as a type of nurture toy. The toy comes in the shape of a cute owl that can interact with kids with touch sensors to detect a kids touch. It is also motion sensitive that allows the Owleez to react to cuddles and when kids try to rock it to sleep. The toy provides different reactions with over 100 sounds and interactions. From showing changing moods to its expressive color-changing eyes, the Owleez will surely feel like a real pet with every kid-to-toy interaction.
But that is not all the Owleez can do. As a baby pet, kids can also teach it how to fly. It starts with the Owleez in its accompanying nest where it starts to spread its wings. Kids will actually need to nurture it and teach it how to fly eventually. Each Owleez will fly differently depending on how kids teach and nurture it to spread its wings. The toy is made out of durable and lightweight materials so it is okay for the toy to go through initial crashes as it learns to fly. With constant care, cuddle, comfort, and encouragement, kids will eventually see their flying owl successfully up in the air. The Owleez Flying Owl is ideal for kids from 6 years old and above. I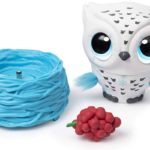 t is available on Amazon for around $59.
Image Source: Amazon