Some parents may still not know what to give their little princesses for this coming holiday. While some kids are frank enough telling us what they want for Christmas, some may not exactly know what they want to have. Toys for girls are always a good choice as holiday presents. Here are some of the popular toys that girls will love to have as presents for the Holidays 2014.
Strawberry Shortcake Stage Playset and Singing Doll
Many girls know Strawberry Shortcake and friends. Now, your girls can have a Strawberry Shortcake and Cherry Jam dolls putting on a live rocking performance on stage. The glammed up 6-inch dolls. The set also comes with a stage complete with stage sparkles, bright lights and plays two musical clips that kids are familiar with from the animated TV series. The doll set also comes with Cherry's guitar and a microphone with stand. The Strawberry Shortcake dolls and playset goes for $25 at Amazon.
Disney Frozen Anna and Elsa Role Play Dresses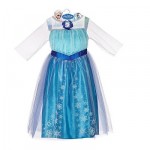 The movie Frozen has become quite a box office hit that many kids now know about Anna and Elsa from the film. It has become every girl's dream to be either of these animated characters. The girls can now dress up like their favorite Frozen character with the Disney Frozen Anna and Elsa Role Play Dresses. These dresses are designed to match what the girls wear from the film. Elsa's dress is an aqua blue gown with tulle, glittering sequins and snowflakes. Anna's dress is made of colorful layers of satin and organza for a cover and with a black velvet bodice adorned with glittering screen art flowers and a detachable cape with faux fur trim. The dresses are ideal for girls 3 to 7 years old and up and availableat Toys R' Us for $20 each.
Girlmazing Radio Control Car
Most remote controlled toy cars are primarily designed with boys in mind. But some girls also love to play with them. The Girlmazing Radio Controlled Cars are specifically designed for girls this time. Girls can choose from several car model designs available in different colors. The cars also come with customizable stickers to give each car a girl's own personal touch. The Girlmazing Radio Control Car is ideal for girls from 6 years old and up. Prices for different car models range from $20 to $25.
Graphic Skinz Design Studio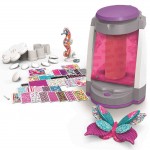 Many girls love designing their things. With the Graphic Skinz Design Studio, they will be able to apply graphics to 3D objects such as toys, cellphone cases, jewelry and more. A battery-operated vacuum chamber and a choice of different graphic skins make this possible. The can add new graphic skins to different objects that can fit right inside the vacuum chamber. The Graphic Skinz Design Studio from Mega Brands America is ideal for kids 6 years old and above and available at retailers for around $30.
Digi Birds
The Digi Birds from Spin Master is a convenient toy pet for girls who are not yet old enough to have a real one. These palm sized pet birds can interact with their owners by singing. Having one pet is fun. There are several Digi Birds of different colors and singing different tunes available. Kids can try to collect all of them to build up a choir of singing Digi Birds. They are ideal for kids 5 years old and above and available for $10 each.
Image Sources: Toys R Us, Disney, Amazon