Girls love adorning themselves with jewelry. I should know, I love putting on a pair of beautiful earrings even when I go out to the local grocery. And even at an early age, my daughter would pick wild flowers, tie them together, and wear it as a headband. Just yesterday, she told me how she and her friend had a fun time together making bracelets out of rubber bands. Her friend calls it "Twistz Bandz".
I looked it up on the Internet and learned more about the product. Created by Rainbow Loom, Twistz Bandz provides young girls hours of fun creating personalized rubber band bracelets. Each box contains two bracelet templates, hooks, c-clips, over 600 pieces of latex-free rubber bands of different colors, and an instruction manual. It can make up to 24 rubber band bracelets. (Note that the rubber colors may vary from what is pictured in the box.)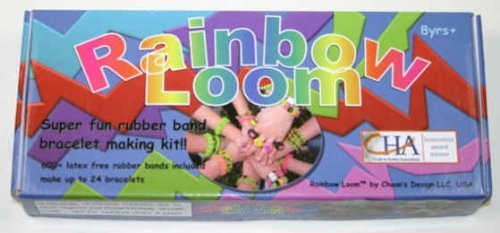 Looking at how many mothers and grandmothers leave positive reviews about Twistz Bandz and how it provides a creative outlet for their kids and grandkids, I am considering buying one for my daughter. However, she needs to grow a few years more. (I'm a stickler for age requirements.)
Recommended for kids aged 8 years and up, the Twistz Bandz rubber band bracelet making kit from Rainbow Loom is available on Amazon for a listed price of $21.49.