Long-distance travel can make your children restless beyond the constant "Are we there yet?". While we can tolerate and be patient with their moodiness and restlessness, the problem is whether other people can take it, such as during air travel.
But there are reasons why our kids get agitated and impatient when traveling long miles. For one, they get bored easily. Our children need something to keep them entertained, much like how adults like us read a book or play with our smartphones just to pass time. Here are some perfect travel companions the kids will enjoy during long-haul flights.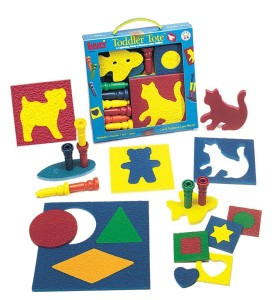 Lauri Toys Toddler Tote
Puzzle pieces made of crepe rubber keep your young toddlers absorbed into putting the pieces together. It also comes with plastic pegs that can be stacked on top of another. This toy set teaches the young ones age 2 to 5 about basic puzzle-making, as well as the concepts of shapes, colors, and numbers. They are guaranteed safe and completely washable.
Because they are made of rubber, you won't need to worry much about your kids using it as teething tools. However, you might want to keep the pegs away during air travel as they might keep on roll off the tiny table airplanes provide. Listed for $14.99.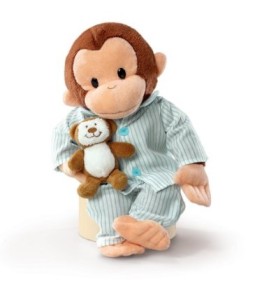 Curious George In Pajamas Plush Doll
The beloved mischievous monkey has been a favorite for kids of many generations. This 12-inch plush doll features Curious George dressed in his striped pajamas, clutching a tiny bear on one hand, and ready for bed time. It is a perfect companion for your kids while he sleeps inside the plane.
This doll is made with high quality in mind. It is fully plush, even under the clothing, and can last for many years. Your child could create good, lasting memories with this Curious George doll. Listed at $67.99.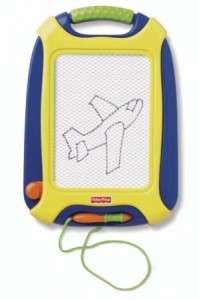 Fisher-Price Kid Tough Doodler Travel
This toy reminds us of Etch A Sketch, but developed with younger children in mind. It is a variation of the Doodle Pro, but the screen is placed in a vertical orientation and a carry handle on top, ideal for carrying around wherever the family goes. It also comes with an easy-slide eraser bar and screen saver pen.
While my 3-year-old niece enjoys sketching random doodles with this, adults may find it a little underwhelming. Since the screen's honeycomb pattern is larger than most Fisher-Price Doodlers, it results to lighter lines that disappoints the parents but kids do not seem to mind. Listed at $14.65.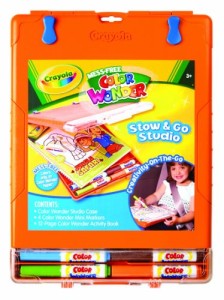 Crayola Color Wonder Stow and Go Studio
Your little artist would love this portable coloring activity case. It comes with a clip-equipped coloring surface, a storage case underneath it, a 12-page Color Wonder activity book, and four Color Wonder markers.
The beauty about Color Wonder markers is that they only work on paper, so you don't have to worry when your child become interested in coloring the airplane's walls and seats. The clipboard also keeps any paper in place. Kids who are into coloring and doodling can play with the Stow and Go Studio for hours on end. Listed at $13.99.