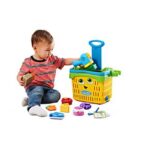 Some toys can help kids a lot in their learning development. Not only do they help provide some element of fun to learning, toys can also be effective in improving a child's attention and focus as well along the way. But it depends in what toy kids play with. They can benefit a lot if such a toy is similar to something like the LeapFrog Count-Along Basket and Scanner.
The LeapFrog Count-Along Basket and Scanner is an interactive toy that can help toddlers identify common objects that they see in the supermarket. It is designed like a shopping cart that kids can use to play some pretend shopping. Kids can carry it like a typical shopping basket or they can also expand it to become a rolling shopping cart. The set also comes with eight play foods in different colors. It also comes with a toy scanner that does a lot of things.
Toddlers can learn to insert the shape tags found together with each play food into the scanner and the toy will identify its name, color, and the number found printed on it. In another mode, kids can also scan each toy item and count up to ten. There is also a game mode where the scanner will give the toddlers clues by number, name, color, or shape. The toddlers can then find the food that matches the clues and scan it.
The LeapFrog Count-Along Basket and Scanner comes with a lot of educational value as a toy that many parents will love. It is also fun as a toy that toddlers can use for pretend play when they are not playing with the different learning modes. It also comes with a shopping list of songs and phrases that the interactive scanner plays when scanning the items on the list. And after they are done playing, they can have fun tidying up when collecting the food toys and putting them inside the basket.
The LeapFrog Count-Along Basket and Scanner set comes with eight play foods, the shopping basket, shopping lists, and the interactive scanner. It is an ideal toy for kids from 2 to 5 years old. It is available at the LeapFrog website for around US$35.
Image Source: LeapFrog