NogginSeek Peek and Seek Rattle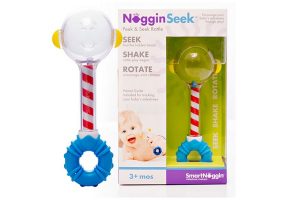 By the time kids have developed their senses, they begin to explore what their bodies are capable of doing. They start to discover and develop their early skills from day to day. Eventually they get better and better at it. Parents can aid in the development by providing toddlers with toys that will help them explore their senses in different ways. Toys like the NogginSeek Peek and Seek Rattle can do just that.
The NogginSeek Peek and Seek Rattle allows your precious toddler to learn important skills during play. This rattle has many things that kids can do as they play with it. There are beads that kids can try to seek by moving the rattle around. And when kids shake it, the rattle sounds help encourage the kids to do it some more. This exercise helps encourage wrist rotation, which helps kids develop their muscles while having fun. The NogginSeek Peek and Seek Rattle is ideal for kids from 3 months and above. It is available at Fat Brain Toys for $17.
Image Source: Fat Brain Toys