Klutz Make Paper Lantern Animals Craft Set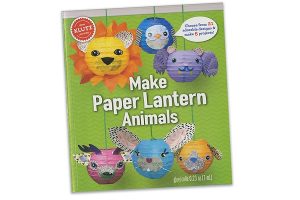 If your kids love arts and crafts, then it helps that you give them with certain projects that will help develop their skill in this area. Doing things with their hands and imagination gives them a sense of accomplishment that can also boost their confidence. Having craft projects always ready will ensure that your kids keep up with their interests that can develop into hobbies later on. The Klutz Make Paper Lantern Animals Craft Set can help provide such projects for kids to do with colored paper.
The Klutz Make Paper Lantern Animals Craft Set features detailed instructions and illustrations to teach kids how to make paper lanterns. Aside from making festivals and special occasions more colorful, paper lanterns can also adorn any kid's room and make it an interesting feature for friends to talk about. The set comes with a detailed guide book on how to make animal-themed paper lanterns as well as a set of craft materials to allow kids to make up to 6 paper lantern animals. The materials include 10 sheets of colorful patterned paper, 6 mini paper lantern frames, 4 sheets of tissue paper, 77 paper accents, 4 feet of ribbon as well as glue and stencils. Kids can choose from 21 designs in order to create their 6 paper lanterns. Kids can then hang the finished projects in their rooms and even add a battery operated LED light to illuminate it. The Klutz Make Paper Lantern Animals Craft Set is ideal for kids 6 years old and above with a knack for arts and crafts. It is available at Fat Brain Toys for $18.
Image Source: Fat Brain Toys