Canine Companions Set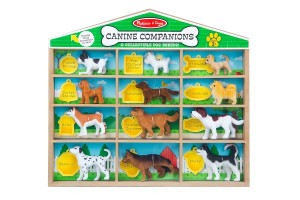 A dog is a man's best friend. It is mainly due to their loyalty and lovable nature that make them an ideal companion to humans. It is no wonder that even kids love having dogs around. For some kids who have developed their love for dogs, this Canine Companions Set will be a good toy set to have around.
The Canine Companions toy set is a collection of 12 felt-covered miniature models of different dogs. It features some of the most beloved and popular dog breeds. The set comes with dog breeds like the Pomeranian, Chihuahua, St. Bernard, Husky, Dalmatian and many more. Each dog is placed in a labeled compartments inside a miniature dog house. Kids can also learn more about the different dog breeds since the set also comes with useful information about each breed. Kids from 3 years old and above who love dogs will love to play with the Canine Companions toy set. It is available at Melissa and Doug for $20.
Image Source: Melissa and Doug