Picturerium Digital Fish Tank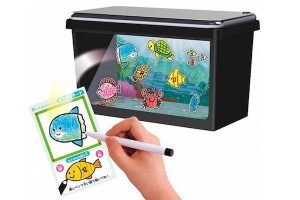 New tech and toys have somehow become more and more intertwined nowadays. What toys kids love to play now are usually the type that features technology as a main component. From smart phones, tablets to electronic accessories, they all aim to revolutionize the basics of play as kids know it. Just take for example this Picturerium Digital Fish Tank and you will have an idea of how the future of play may develop.
The Picturerium Digital Fish Tank is a unique digital aquarium that kids will absolutely find fascinating. This digital fish tank works with the iPhone and its accompanying Picturerium app. It will enable kids to enjoy having an aquarium where all the fishes are drawings that come to life. The set comes with a number of fish cards and food cards. Kids need to draw on the fish card any type of fish they want to include in their Picturerium Digital Fish Tank. Using the iPhone camera, kids try to take an image of their drawing and then it becomes a moving digital fish inside the Picturerium. Kids can add as many fish drawings into the digital fish tank as long as they have the fish cards available. There are also food or snack cards where kids can draw something they can feed their digital fishes with.
The Picturerium Digital Fish Tank comes with the Picturerium tank, a background card, a reflection board, 10 fish cards, 10 food cards and iPhone adjustment frames. Once the cards run out, kids can download additional cards from the Picturerium website. This unique and interactive digital aquarium is available at the Japan Trend Shop for $45.
Image Source: Japan Trend Shop