Battat Take-A-Part Airplane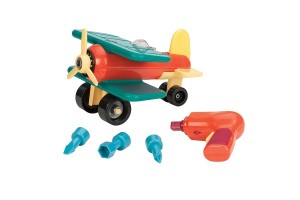 Many kid boys are fond of playing with mechanical toys even at an early age. They are fascinated with machines of different kinds. Their fondness can sometimes lead to trying to understand how the machines work. That is why they love to sometimes take things apart to try and find out what makes things work. So as not to consider is as a destructive activity, taking apart toys that are not meant for that, give your kid the Battat Take-A-Part Airplane to play with instead.
The Battat Take-A-Part Airplane is a toy that kids can really try to take apart and assemble again. It is a toy biplane that comes with 21 vehicle parts, a power screwdriver with 3 different detachable bits. The big nuts and bolts are designed for small kids to handle. They can try to take apart the plane and then learn to put it back together again. It will help kids develop their building skills at an early age, learning to distinguish parts and remember where they belong during assembly. Taking the airplane apart becomes a worthwhile activity instead of something that others may consider a negative one. The Battat Take-A-Part Airplane is ideal for kids from 3 years old and above. It is available at Amazon for $25.
Image Source: Amazon