Illuminated Learning Blocks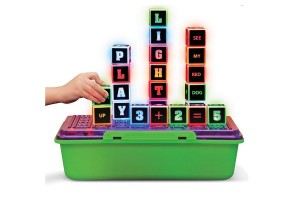 Learning blocks are common toys that help teach kids about letters, numbers and even different objects at an early age. It is effective because kids have fun as they learn along. Instead of helping your kids learn about reading, writing and 'arithmetic using ordinary wooden blocks, you can now use the Illuminated Learning Blocks instead for some added visual stimulation for kids.
The Illuminated Learning Blocks is a unique set of learning blocks that light up. The set comes with around 3 dozen one-inch blocks with letters, numbers and simple words printed on different sides of each block. The set also comes with a special board where kids can stack these blocks one on top the other. As kids place them on the board, each block starts to light up. Other blocks also turn on when stacked one on top the other. It is an interesting way for kids to learn about letters, numbers and words.
The Illuminated Learning Blocks helps kids learn about the alphabet, numbers and arithmetic as well as reading simple words. The illuminated blocks helps kids focus and learn with added interest. The board is designed to also act as a storage container for the blocks. The different ways kids can play with the Illuminated Learning Blocks help develop their minds at an early age. It is available at Hammacher Schlemmer for $100.
Image Source: Hammacher Schlemmer