TouchThinkLearn – Opposites Book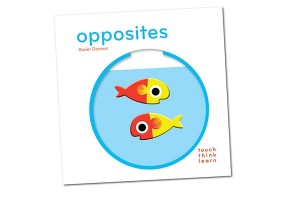 Kids can learn different things using a variety of methods. They can learn a lot if they make use of their various senses for stimulation. Combining these different senses usually helps make learning methods all the more effective. The TouchThinkLearn – Opposites Book is one example of how kids can learn better with the use of their different senses altogether.
The TouchThinkLearn – Opposites Book is a textured book that not only provides a visual experience but also a tactile one to help kids learn and remember the concept of opposites. Kids do not only see the differences but also feel them for a more vivid and memorable lesson in opposites. Pictures are indented into the page to provide a tactile component. This board book comes with strong, thick pages and durable book binding to make them more ideal for small, uneasy hands. There are 9 comparisons kids can learn and understand. This book helps encourage fine motor skills and also helps develop sensory learning and early reading skills. The TouchThinkLearn – Opposites Book is ideal for kids from 3 years old and above. It is available at Fat Brain Toys for $15.
Image Source: Fat Brain Toys