WebRC XDrone Nano Quadcopter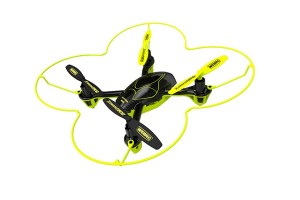 Flying object are always fascinating toys. Kids of all ages would like to play with such remote controlled toys. But because of the skills needed to control a flying object, these toys require kids to be of a certain age before they can play with them. One such toy is the WebRC XDrone Nano.
The WebRC XDrone Nano is a portable remote controlled quadcopter that can go up to 150 feet high and can reach speeds up to 20 miles per hour. It features a 6-axis gyroscope to provide the flying machine with extreme stability. The 2.4 GHz remote control allows users to control the XDrone to go in all directions. The rechargeable batteries provide enough power for 20 minutes of flying time. Optimum charge time is around 30 to 40 minutes. The WebRC XDrone Nano comes with a protective cage system that protects the propellers from collisions and crash landings. The remote control may take some time to learn and get accustomed to. Flying the quad copter is a great way to develop hand-eye coordination, fine motor skills and a certain level of creativity doing some fling tricks with the XDrone. This quad copter is ideal from kids from 14 years old and above. It is available at Fat Brain Toys for $50.
Image Source: Fat Brain Toys