Lambie Walking and Singing Toy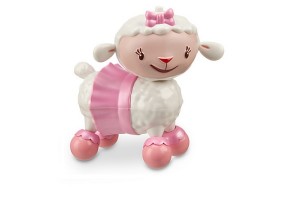 Kids love pets even at an early age. Even babies love to make friends with our pet dogs and cats. Even the animals will try to be more accommodating towards babies and play with them. But still, some parents may have reservations having their babies play with pets. If you want to develop that love for pets among kids early and yet avoid concern for having pets around due to cleanliness issues. When real pets are still off limits to kids, this Lambie Walking and Singing Toy will do just fine.
The Lambie Walking and Singing Toy from Disney is an ideal pet to give to a toddler when the real thing may not yet be appropriate. Lambie is a cute lamb that can sing her way into your little one's heart, not to mention that it can walk as well. This singing pet lamb may be an ideal companion for a toddler looking for some company. All it takes to make Lambie sing and walk is a touch of a button. Even small kids can learn this easily, becoming more aware of cause-and-effect in the process. The Lambie Walking and Singing Toy is designed for kids from 3 years old and up. It is available at the Disney Store for $8.
Image Source: Disney Store