I Can Name 50 Trees Today! iOS App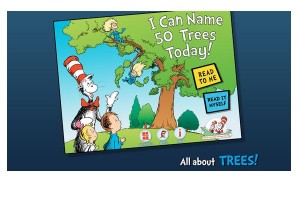 When it comes to early learning nowadays, tablets and smartphones may be considered as one of the most useful toys to use. My kids just cannot help themselves playing with my iPhone. Even when I bought them a tablet to play with, they still try to use my phone once in a while to play games and do some fun stuff with the app I downloaded into it. What I am simply saying is that, with these devices quite irresistible for kids to play with, parents can use them as an educational tool for some early learning fun. Apps like I Can Name 50 Trees Today! from Oceanhouse Media.
The I Can Name 50 Trees Today! is an educational app for the iPhone and iPad that can help teach kids to read and learn about trees in general. To keep kids interested, it features the Cat In The Hat, that famous Dr. Seuss character to keep the kids engaged. It also uses Dr. Seuss rhymes to make reading more fun for the kids. Through the app, kids can learn about how trees grow, their characteristics and how to identify the different types. But more than that, this app can help kids to practice reading, learn new vocabulary, pronouncing the words properly, and improve their narration skills. The app features a means to record a kid's narration for playback later. The I Can Name 50 Trees Today! educational app is ideal for kids from 5 to 10 years old. It is available at the Apple App Store for a $5 download.
Image Source: App Store